HOME > Technology Intelligence > about Bolt Cutter

About Product

Bolt Cutter


Characteristics
Cutting edge is adjusted by Eccentric Bolt on mounting plate. It is not necessary to adjust often like other makers' bolt cutters having adjustment bolt at side.
Jaw is made from the special alloy steel, which was developed originally for HIT Bolt Cutter under the cooperation of steel manufactures. And it is done various treatments suitable for cutting re-bars, soft bolts, rivets, chain etc.
Thick and wide Mounting Plate enable jaws to hold material firmly to cut and use for long time.
Rubber Grip is designed for worker's good feeling, when held by naked hands. And it is not broken like hard plastic grip in case of dropping.
6,000 Times Cutting Test
| | |
| --- | --- |
| Tested HIT Bolt Cutter | BC600 |
| Dia. Of material cut | 6mm |
| Hardness of material cut | 40HRC (1,250Pa [127.5kgf/mm²]) |
| Cutting times | 6,000 |
| Condition after cutting test | It can cut material continuously, because there is no damage on the jaws. |
Before Cutting Test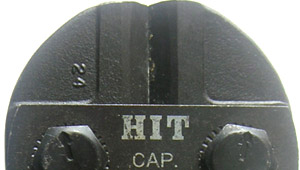 After Cutting Test